Where will you find the very best Oklahoma City Thunder pics ever?
That's easy ... go to the
website of professional Oklahoma City photographer Richard A. Rowe
, also known as ...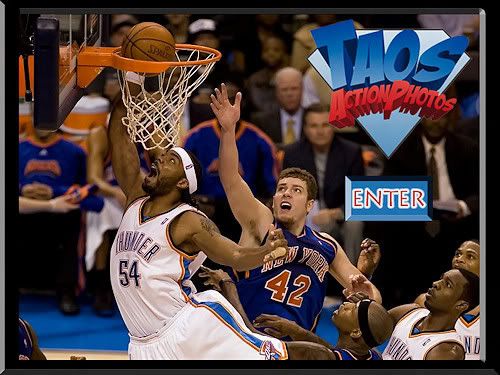 Clicking that image takes you to the game-by-game (and occasional other Thunder events) photographs taken by this master photographer ...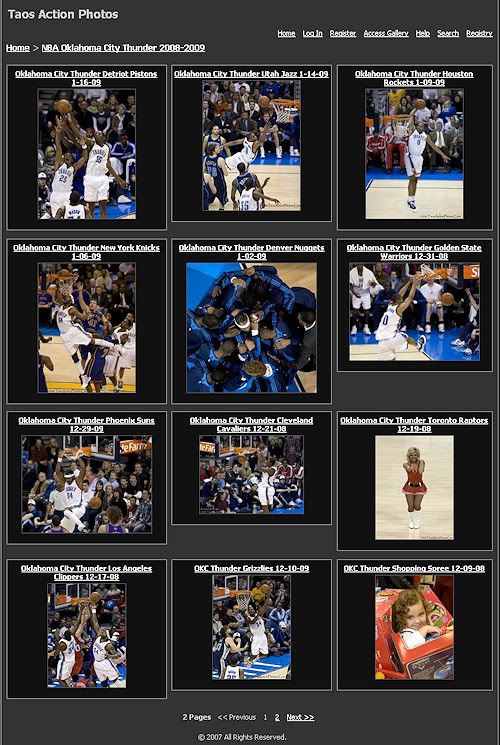 Pics of each Thunder game are there for your free viewing (but you can purchase high resolution images there, if you want) ... if you want higher resolution photos than the thumbnails shown in this thread, you'll have to view and/or purchase them there. The photos are so outstanding that Thunder fans will be hard pressed not to do exactly that.

You may notice with this post that, in the OKC Thunder links at the left, Taos Action Photos has been added to the list.

What you will find at Taos Action Photos are unexcelled photographs of each Thunder home game (plus other groups than the Thunder at his home page). What I'm presenting below is a low-resolution thumbnail sampling of what Richard has to offer ... click on any pic to go to Taos Action Photos to see the photos represented by these thumbnails.



The rest is just eye candy ...
Thanks to Taos Action Photos! Enjoy!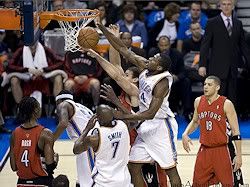 Richard is one of those nameless photographer guys who gets to sit on the floor or roam the arena when the game is afoot equipped with one of those cameras with magnificently huge and expensive lens, and who gets shots like this one from the December 19 Toronto Raptors game ...






... or this one from the January 2 Denver Nuggets game ...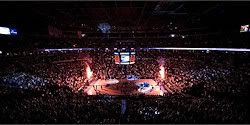 ... or this great wide-angle shot on January 9 vs. Houston ...

But, to me, some of the most incredible photos he takes are from the catwalk waaay up at the top of the Ford Center ceiling ... look straight up next time and see what I mean ...



From way up there he looks down on the action, zooms in and still gets exceptionally crisp photos of the action taking place waaay down below ...


November 21
vs. New Orleans Hornets


... or this one on January 2
vs. Denver Nuggets ...


... of course, overheads
are not all that there is ...


... but maybe that's just me.


This gives but a taste to show you what you are missing if you don't go to Taos Action Photos and see for yourself!

You'll also see a few thumbnails of Richard's photos in my game pics article, but I try not to use very many so not to overstay my welcome. Visit his website ... you're gonna love it!



Go To Top