Updated September 22, 2009

What's the best source for researching Oklahoma City History? That's easy — it's the Oklahoma City Metropolitan Library System, MLS for short.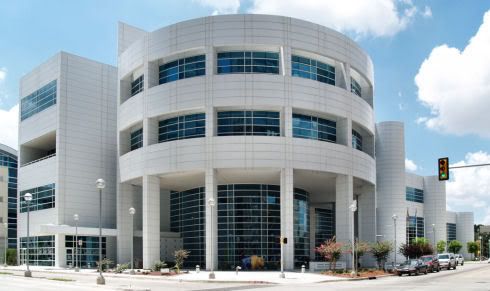 And much of it is available in your own home, or in your hotel room while you're traveling — anywhere you have a a computer and internet availability.
Some parts are available to anyone. For some of the best research tools, though, all you need to know is your MLS library card and your own last name. This brief article gets you started in seeing how to use some of the great resources of the Oklahoma City Metropolitan Library System.

To get you started, I've put together a little flash slide show. Although it runs by itself, with between 5 and 10 seconds between each slide, it contains controls to pause, move forward or backward, as you chose. Due to width and height limitations in this blogger format, three of the pages are hard to read, but a "Larger" button is available on those pages click on the button and the slide show will pause and the page will open in a separate window or tab for a larger view.




This article does not develop the history of the downtown library — click here for that. It does not particularly show how to use the Oklahoman's archives — click here for that. It does not show you how to use the Sanborn Maps feature — click here for that. The focus of this article is to point you to areas in the Metropolitan Library System that will be helpful in your Oklahoma City history research — Internet Links, below, and The Oklahoma Room at the end of this article.

INTERNET LINKS. For that, here are some MLS internet links that you may want to bookmark:









THE OKLAHOMA ROOM. The above gives internet links for MLS internet-available research. Alas, not everything is available on-line (yet). That's where the Oklahoma Room on the 2nd floor of the downtown Ronald J. Norick Library & Learning Center comes in handy.



The Oklahoma Room contains the MLS collection of quality books and other documents (e.g., old plats, maps, etc.) which specifically focus on Oklahoma (and Oklahoma City). Often those books are rare and out-of-print and they are often fundamentally important when a researcher is looking for detail about numerous Oklahoma City history topics.
This room is not generally available but it does have availability at the following times:

Monday through Thursday: 1:30 pm - 4:30 pm
Other times by appointment — call 606-3872
Below are a few pics taken September 22, 2009, inside the Oklahoma Room. My host was Larry (Buddy) Johnson who maintains the room and under whose guidance, often pen, research of Oklahoma City history by the MLS is done. Above, you will have noticed that he writes brief Oklahoma City history articles in each info magazine and that his lengthier essays are found in MLS's Oklahoma Images database.

He should have a grander title than "librarian," so Doug Dawg will given him one — MLS Okc History Boss-Man. I fully expect that those who work with him to begin calling him that right away! About Buddy, info Magazine says,

Larry "Buddy" Johnson has been with MLS since 1998. Not only a librarian at the Downtown Library, he is the brilliant mind behind the Oklahoma Images database which is a collection of pictures and essays that illustrate the history of central Oklahoma.
Below, click on a thumbnail image for a larger view

Inside looking east

Looking southwest

Looking southeast at the rare maps and plats placeholders;
at right, Buddy displays a plat book of early Oklahoma City.
Buddy is the author of Historic Photos of Oklahoma City (Turner Publishing Company 2007). At left, below, he proudly holds his baby. The occasion for my presence was a meeting of an as yet secret society in the process of formation — I am forbidden to tell you that it has to do with — oops! Almost did! At right below are two additional friends and co-conspirators, one new and one old. The lady is the new friend, Carolyn D. Cuskey, Coordinator & History Professor, Rose State College and its Atkinson Heritage Center; the guy at the right is old friend Steve Lackmeyer, co-author with Jack Money of OKC: 2nd Time Around (Full Circle Press 2007), author of Bricktown (Arcadia Publishing 2009), and co-author with Jack Money of the soon to be published The Skirvin (Full Circle Books 2009).
After these photos were taken, a meeting was held in a secret room by the secret group. During that, I noticed a cool photo on the wall — sorry that it's got camera glare in it but it's still worthwhile publishing — a rare photo of the old downtown Frisco depot in 1914. The second is a crop of the first. Click on either for a larger view.



Go To Top