Also, see
Skirvin Hilton Preview
,
Skirvin Hilton: The Day Before
, and
Grand Reopening
.
ORIGINS
William Balser "Bill" Skirvin, a Michigan native, made the Run of 1889 but then moved to Texas where he made a fortune in land development and oil. In 1906 he and his family, including his oldest daughter Perle (who later would become Perle Mesta, the Washington and international "Hostess With the Mostest" and about whom a Broadway musical and movie,
Call Me Madam
, were made ... but that's another story) ... moved to Oklahoma City. In 1910, Skirvin decided to build a fine hotel on property he owned at 1st (Park Avenue) and Broadway, and he joined forces with Solomon A. Layton who designed the state capitol building. The original plans called for 6 stories, but, according to Skirvin's daughter, Pearl (ed note: sic - should be Perle) Mesta, the archetect persuaded Mr. Skirvin to expand it to 10 stores. The 225 rooms and suites Skirvin Hotel opened on September 26, 1911. See
Bob Blackburn's excellent article
for much more detail.
Postcard showing the 1911 exterior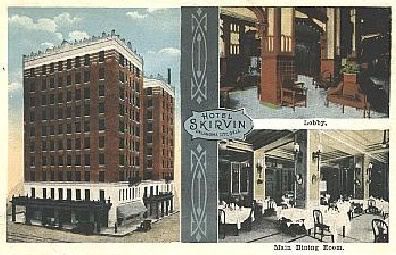 Postcard showing the lobby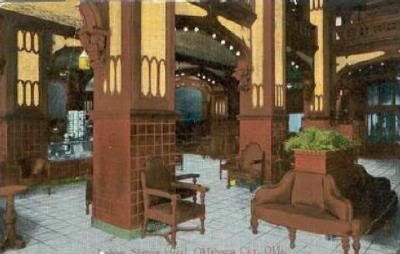 In Bob Blackburn's article, we read,

During the next 10 years the guest register of the Skirvin Hotel reflected the frontier character of the young, bustling state. Guests included cigar-chomping politicians, free-wheeling ranchers, blanketed Indians from the state's 70 tribes, oil-rich millionaires, mud-covered drillers, and even notorious bank robbers such as the famed Al Jennings, the ex-convict who launched his bid for governor from the lobby. Skirvin, always impeccably dressed in his well-pressed suit, welcomed all with open arms.
EXPANSION AND DECLINE

A 1926 expansion added new wing of 12 stories to the existing two wings with 10 stories. But, the economy was going great and a final expansion was completed in April 1930 raised all wings to 14 floors and with a capacity of 525 rooms and suites, as well as numerous other changes and and added amenities.



Construction in the 1920s



The Final Product in 1930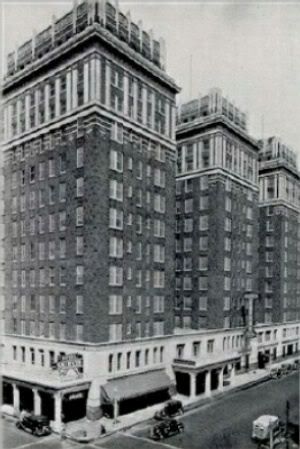 Coffee Shop in 1930



Venetian Room in 1930


Bill Skirvin continued to own the hotel until he died in 1944 from injuries sustained in an auto accident. In 1945, his children sold the Skirvin (and its across the street cousin, the Skirvin Tower) to Dan W. James, owner of the Black Hotel and, over a 10 year plan, James invested considerable resources in improving the services and quality which had apparently declined during World War II. Harry Truman and Dwight Eisenhower were guests in 1948. James added a pool in 1959.

Beginning with James' 1963 sale to Chicago investors, the property changed hands a few times during the difficult downtown days of Oklahoma City ... during the Urban Renewal phase, suburban malls, oil bust, etc. Although Bob Blackburn's article is much more thorough about this topic and ends on an optimistic note at the time his article was written (1982), the apparent rejuvenation and optimism then present did not persist. The Skirvin's doors were closed in 1989 and have not since reopened.

REBIRTH

The Skirvin was acquired by the City of Oklahoma City in 2002. From the City of Oklahoma City's website,


"Saving the Skirvin is a high priority for our citizens. After more than 10 years, it's clear the City's intervention is necessary to make that happen," [Jim] Couch said.

In 2004, the Urban Renewal Authority and City Council chose the Skirvin Partners group to buy and restore the hotel.

The City has developed a financing package that will not only allow developers to renovate, restore and reopen the Skirvin, but could actually provide the City with a direct return on its investment of $1 million to $5.6 million. That's in addition to $15 million in various taxes the hotel could generate over 15 years.

"This is revolutionary. This is unheard of in the industry." That's how consultant John Keeling described the groundbreaking proposal.

"This is a deal other cities will come and ask you about, wanting to know how you did it," Keeling told City Council at its May 11, 2004 meeting.

The grand dame of Downtown Oklahoma City will reopen as an elegant hotel with at least 165 fulltime employees.
The Skirvin Partners joined forces with Marcus Hotels and Resorts, a Wisconsin company, to restore and eventually manage The Skirvin Hilton. According to the Marcus Hotels & Resorts website, the Skirvin Hilton will open in March 2007, just 6-7 months from the time this article is written. From that website and from the Skirvin Hilton website come the following drawings (click on an image for a larger pic):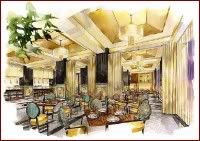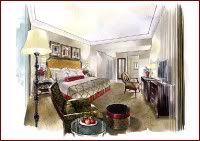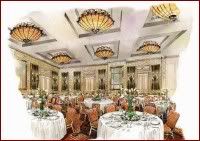 The guest rooms and suites will apparently be larger ... the 1930 configuration contained 525 rooms and suites but, according to the Marcus Hotels' website, "The newly renovated hotel will open in March 2007, unveiling 225 guestrooms, including 20 suites and one Presidential suite." It will also include 22,000 square feet of meeting and pre-function space, a "destination lounge and signature restaurant", flat panel high-definition televisions, wired and wireless high speed Internet access, a fitness center & swimming pool, a "Hilton Honors lounge", and a business center. The City's website puts the guest room/suite count at 235.

AUGUST 19 PROGRESS

On Saturday, 8/19/2006, I took a few pics to see how it was coming. Here are a few ... notice the close-ups of exterior moulding, sometimes deteriorated, but racks of new replacement moulding being used when needed appear on the sidewalk. Click a pic for a larger image.



South Side Moulding Previously Hidden by a Facade



Replacement Moulding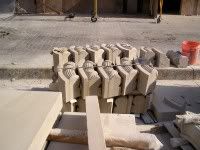 Windows & Moulding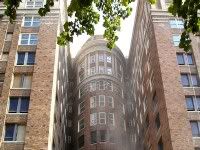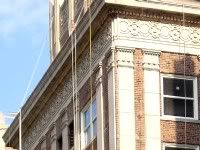 North Side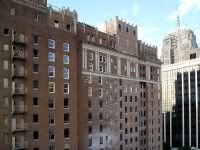 North Side Courtyard and Ballroom Entry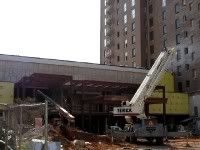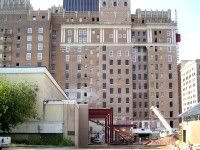 If that's not enough, another 10 pics are at my Photobucket pics.

What a great day it will be, hopefully in March 2007, to remember Bill Skirvin's contribution to this city, and to congratulate our city leaders, and ourselves, for the fine thing we will have done that day! "We?", you say? Yep ... all residents of Oklahoma City will have had a large or a small hand in making this happen vis a vis our City's government. We can rightly call the Skirvin, "our" hotel!



Go To Top